Delivering ultra efficient, end-to-end production in the cloud
Scaling up for big events used to mean transporting lots of equipment and making editorial trade-offs. The acceleration to cloud-based production workflows brought by the pandemic has shifted this paradigm. Now broadcasters and production companies can easily and rapidly scale-up to cover large events and route and edit video from anywhere.
LiveU and Blackbird have teamed up to deliver an industry leading end-to-end cloud-based solution that caters to the evolving needs of broadcasters and production companies. The LiveU Matrix cloud distribution and video management platform and Blackbird's cloud editing application are now fully integrated providing a truly end-to-end cloud production solution, including distribution, recording and clipping.
Can a cloud-based workflow power a major news event?
There are few more testing challenges to demonstrate the capability of any production workflow than supporting a major news event incorporating a pool of major broadcasters.
With the federal election and two state elections taking place on the same day, September 26th, 2021, was a historic day for Germany. Media stations and news agencies were required to simultaneously report from a great number of electoral hotspots across the country, including the party headquarters and the Federal Chancellery – without compromising on video quality. National and international viewers were closely watching the news on the big day.
Several prestigious broadcasters contributed and exchanged numerous live election feeds via the LiveU Matrix video management and distribution cloud platform. Pre-integrated with Blackbird's cloud editing application, participating broadcasters were able to edit live signals in near real-time. During the entire election day, LiveU provided proactive monitoring and support, ensuring a reliable and premium-quality cloud production.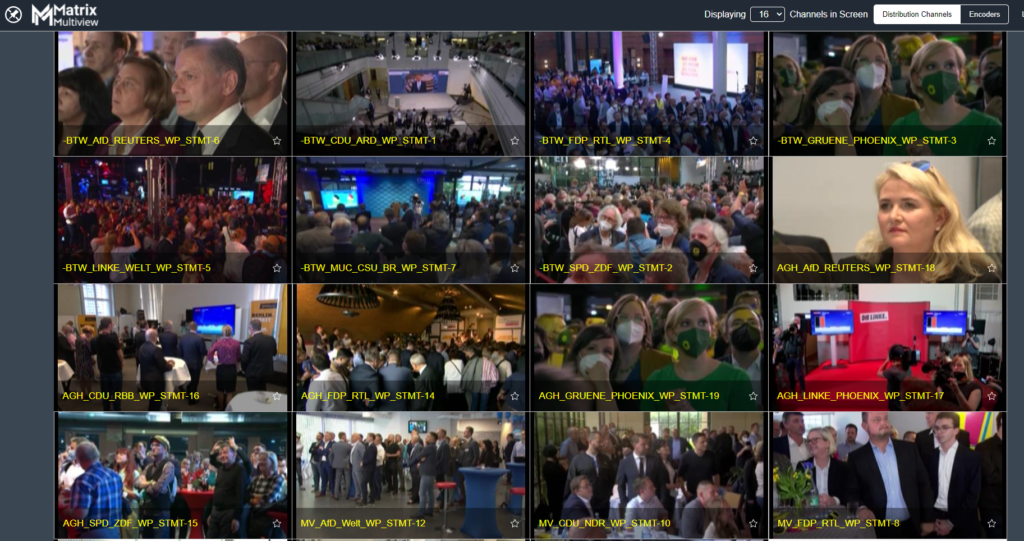 Working remotely, from safe and convenient locations, distributed teams of editors were able to rapidly and collaboratively clip, edit, enrich and publish highlights of the many events. Blackbird then delivered both short and long form high definition digital assets of the LiveU feeds to multiple digital channels simultaneously including social and web as well as to broadcast media partners for repurposing. While the cloud powered a multi-faceted delivery of digital video assets, the primary on-air feeds used by the participating broadcasters were also distributed via Blackbird.
How did the broadcasters adapt to a cloud-based workflow?
Speaking about the project, Susanne Kothe, Head of Production at WELT, one of the broadcasters benefitting from the integrated solution, said «This very special election day was a big challenge involving handling many more news signals than ever before. For us, it was a successful cooperation with all other participating broadcasters together with great support from LiveU. This unique news event gave us valuable experience in learning about a new way of exchanging video content."
Jens Schilder, Project Manager at CBC, referring to the state election coverage that CBC managed on behalf of Mediengruppe RTL Deutschland, said "We were looking for a quick and versatile solution that could integrate all the assets and components of election coverage, including the live feeds, recording and clippings, into a seamless viewer experience. This year is the first time that we did this kind of project and it was important for us to work with trusted partners who could provide an integrated end-to-end solution, with real-time support."
Can you benefit from the flexibility and scalability of a cloud-based workflow?
The pandemic has seen an acceleration in both the technologies behind, and the adoption of cloud-based workflows. Today broadcasters and production companies have all the tools required to support a full live broadcast contribution and cloud production workflow.
Irrespective of where your production team is located, how many feeds you are producing or where you are distributing the content, a fully integrated cloud-based video streaming solution can flex and scale to deliver a rich live production of unrivaled quality.
To find out more about the LiveU and Blackbird integration, watch our webinar.