LiveU Enables First 5G Smartphone Sports Broadcast by Sky Deutschland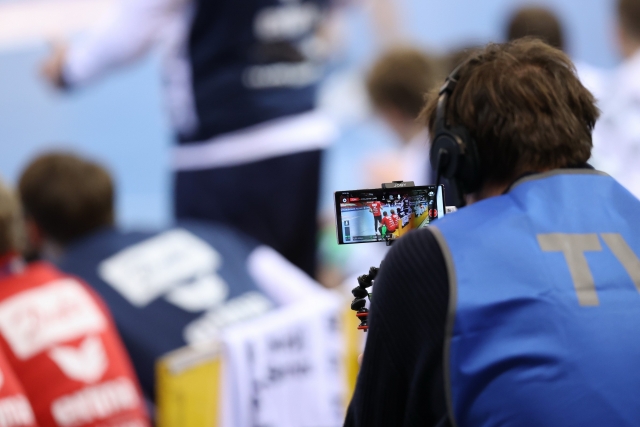 The German TV broadcaster uses LiveU's LU-Smart app to live stream a handball match over the dedicated 5G Telefónica O2 Network
LiveU has powered the first 5G multi-cam sports broadcast produced by Sky Deutschland with its LU-Smart smartphone kits. The live production took place at the Flens-Arena in Flensburg, Germany, where Telefónica installed a dedicated 5G network to live stream a first-league handball match. LiveU's IP video technology delivered flawless live video content, enabling fans at home to watch the entire game in high quality with close-to-zero delay on Sky's online platform skysport.de.

Supported by Netorium, LiveU's longstanding partner in Germany, Sky was able to capture the live-action on the handball court while simultaneously transmitting the live feed. The German TV broadcaster deployed several smartphones equipped with LiveU's proprietary software for real-time encoding and upstreaming to cover multiple camera angles. Leveraging Telefónica's high-performing 5G network on the production site, the video data was transmitted with maximum speed and bitrates.
Alessandro Reitano, SVP Sports Production at Sky Deutschland, said: "Reinforcing our reputation as an early technology adopter, Sky successfully completed the first end-to-end 5G transmission in Europe on skysport.de. With LiveU's latest IP transmission technology and the great support of Netorium, we were able to produce a solid 5G stream of the handball game and to let our online audience become part of a dynamic and highly engaging viewing experience."
The Sky video stream confirmed the effectiveness of LiveU Reliable Transport (LRT™) technology under real-life conditions, drawing on the insights gained by LiveU in pan-European 5G research projects. The live feeds were received via physical LiveU servers located in Sky's mobile control room outside the arena. With each server providing four SDI output channels, the camera feeds could be fed into a hardware mixer and cut on the production site. LiveU's IFB feature (Audio Connect) served as the audio backbone for smooth, two-way communication between the control room and the field.
Zion Eilam, VP Sales for EMEA at LiveU, said: "This joint venture demonstrates the disruptive power that emerges when four technology leaders join forces – with LiveU and Netorium bringing the IP video transmission expertise, Sky Deutschland contributing outstanding live production skills and Telefónica providing the O2 cellular network of tomorrow."
Peter Frantz, CEO at Netorium, added: "With this path-breaking project, we accomplished our mission to provide a best practice reference case for 5G streaming. Thanks to LiveU's superior technology, the days when you needed to have an extensive and expensive tech setup to deliver a broadcast-quality stream are definitely a thing of the past."
The live production in Flensburg was implemented in compliance with the current COVID-19 safety measures. Since no spectators were allowed inside the Flens-Arena, the Sky web stream played a crucial role in helping the competing sports clubs to maintain close relations with their supporters at this unusual time.