Live Coverage During the COVID-19 Crisis: German Broadcaster Deutsche Welle Deploys LiveU Technology for Remote Productions From Home Offices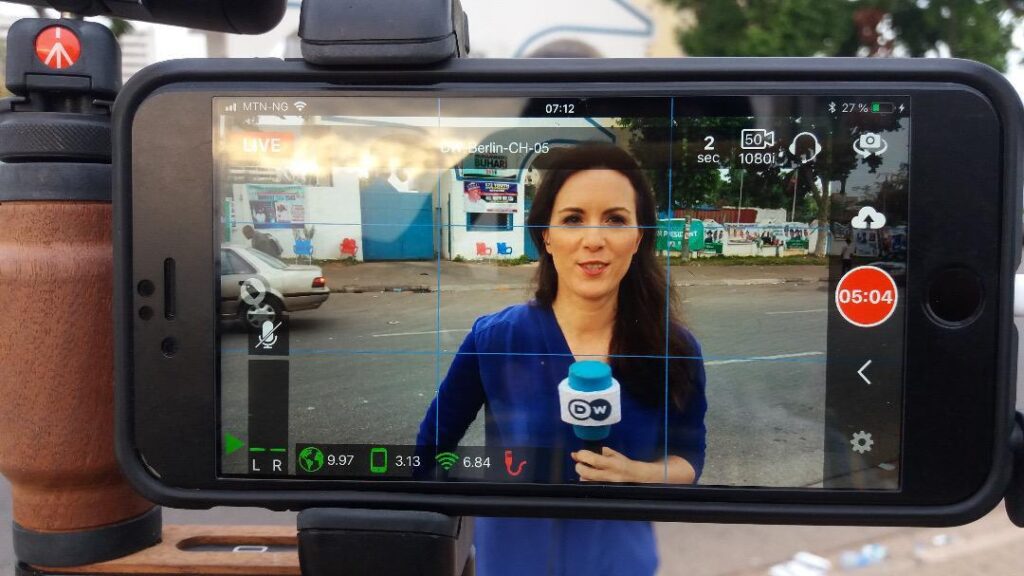 Deutsche Welle's reporters and correspondents increasingly turn to the LU-Smart app for smartphone-based live coverage as the COVID-19 pandemic continues
The foreign news channel Deutsche Welle, headquartered in Germany, is relying more than ever on LiveU's mobile IP broadcasting technology to maintain and expand its global live coverage during the current coronavirus crisis. While the delivery of trustworthy news in real-time remains the first priority, Deutsche Welle's worldwide reporters and correspondents are working under difficult conditions with many of them being locked down at home and unable to access a studio. This is why Deutsche Welle draws on LiveU equipment even more frequently than usual these days for flexible, location-independent production solutions. As an early adopter of innovative broadcast technology, the station has been building a comprehensive LiveU infrastructure with the help of Netorium, LiveU's local partner in Germany.
For its mobile smartphone production kits, Deutsche Welle is taking advantage of LiveU's LU-Smart app, usage rate of which has grown significantly over the past weeks. The mobile application is currently used by more than 400 trained reporters within the worldwide Deutsche Welle network to broadcast live from any location. Max Hofmann, Head of News at Deutsche Welle, said: "A couple of years ago nobody would have imagined that we wouldn't need to book an SNG truck anymore for broadcasts outside our studios. Being able to deliver high-quality live videos simply from the smartphone means much more freedom for us. Now we can always be in whatever location to inform our viewers in a fast, direct and accurate way."
Using the LU-Smart app, reporters can deliver a live signal directly from their smartphones to the Deutsche Welle master control room, without the need for additional technical equipment or streaming skills. During the corona crisis, Georg Matthes, for instance, turned his garage in Brussels into a technically full-blown studio with an LU-Smart equipped smartphone as its centerpiece. Leveraging LiveU's proven bonding technology, the app combines the bandwidth of WiFi and cellular to transmit the smartphone's camera signal in broadcast quality. Deutsche Welle also deploys the LU-Smart app for file transfer as well as automatic audio and video ingest into the station's various production systems as the smartphone streams integrate smoothly into the existing workflows.
In addition to the LU-Smart app, Deutsche Welle has been deploying dozens of LiveU field units of various sizes and types such as the LU300 HEVC portable encoder or the LU610 fixed location encoder. The transmitted signals are received by one of the 20 LiveU servers worldwide that Deutsche Welle operates together with its partners and can be easily managed and controlled via LiveU Central. This centralized web platform is used by Deutsche Welle on a daily basis for managing all incoming live feeds delivered with LiveU technology.
Germany-wide support is taken care of by Netorium whose sales representative Gunnar Schmidt said: "We are very excited to be able to help our long-time LiveU customer Deutsche Welle keep live coverage going at times where many aspects of social life are being shut down. Deutsche Welle correspondents are spread all over the world, broadcasting in 30 languages, which makes this a truly global venture for us."
Zion Eilam, VP Sales and General Manager, EMEA, LiveU, said: "It is fascinating for us to see how customers like Deutsche Welle have proven extremely agile in this challenging situation and continue to deploy our mobile technology in completely new production environments such as the reporters' homes. The Deutsche Welle example shows that our live video solutions, especially the LU-Smart app, are very easy to use and facilitate live broadcasts from virtually any location."
In response to the latest developments, LiveU has recently launched its new Guest Interview feature for LU-Smart. This feature makes it even easier for guests to be added to a live show from remote locations.

Take a look behind the scenes at the garage studio of Deutsche Welle reporter Georg Matthes in Brussels, Belgium: https://www.dw.com/av-53278506
See how creative Deutsche Welle reporters around the globe master the challenge of live broadcasting under crisis conditions (with LiveU technology in focus after 1'15''): https://www.dw.com/en/still-here-for-you/av-53082502?maca=en-EMail-sharing