LiveU Takes Home Top Honors with NAB Show Product of the Year and TV Technology 2021 Best in Market Awards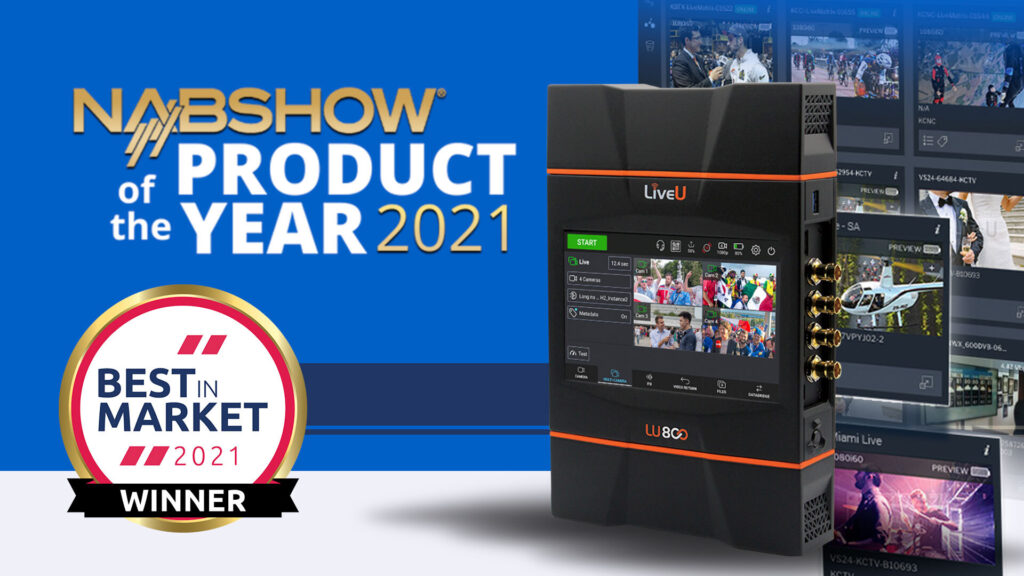 Industry awards recognize LiveU Matrix and the LU800 multi-camera production unit for innovation and excellence in products and services within the professional TV/Video industry
LiveU is honored to be recognized by the industry with a record of five awards for the LiveU Matrix IP cloud video management platform and the LU800 field-level multi-camera production unit. The NAB Show Product of the Year and TV Technology Best in Market Awards (previously Best of Show at the 2021 NAB Show) spotlight innovation and excellence in new, recently introduced, and pending products and services for professional TV/video, radio/audio and AV products and solutions. Setting the standard for quality and reliability, LiveU's solutions streamline and automate the live video production workflow.
"We continue to disrupt the video industry with end-to-end solutions that provide cost-savings and increased efficiencies in the control room and in the field while delivering a seamless video experience," said Mike Savello, LiveU VP of Sales, Americas. "The LU800 and LiveU Matrix advance the acquisition, management, and distribution of live news, sports, information, and entertainment across the globe. We are grateful for the opportunity to showcase our innovative solutions through these prestigious awards despite the cancellation of NAB this year."
LiveU Matrix allows users to share and receive high-quality, low-latency live feeds with, and from, broadcasters and other stakeholders around the globe – inside or outside the organization. Now with Dynamic Share, producers can expand their coverage even further by leveraging LiveU's Global Network of content creators.
The LU800 PRO4 is LiveU's breakthrough multi-camera 5G production level field unit, delivering mission-critical transmission for high-end productions. The LU800 delivers the most compelling live productions at a fraction of the cost of traditional transmission methods.
NAB announced its Product of the Year Award winners late last week via a press announcement. The winners of the Best in Market Awards will be featured in TV Tech magazine, read by thousands of broadcast professionals in the United States, around the world and online. In addition, all nominees will be featured in a Best in Market Program ebook in the near future. TV Tech is the industry's leading magazine for broadcast and media technology news and reviews. Winners were selected by panels of industry professionals.
To see the full list of winners:
https://www.tvtechnology.com/news/tv-tech-announces-recipients-of-the-2021-future-best-in-market-awards
https://www.nab.org/documents/newsroom/pressRelease.asp?id=6217