Live Video on the Green: Your Live Golf Toolkit
In today's world, sports broadcasters and production companies are looking for new and engaging ways to cover live sports. It's becoming crucial to understand the technology that's going to give you an edge in the field and bring all the sport action to the fans at home. LiveU continues to drive the live video revolution, equipping teams, sports associations, broadcasters, and production crews with solutions that safely and cost-effectively deliver high-quality live sports coverage.
This guide will outline how LiveU can take your golf productions to the next level. Keep in mind these methods can be applied for any sport production!
The Difficulties of Covering Golf
Golf is one of the most challenging sports to cover live. The outdoor element, coupled with the size of the course, makes it difficult to tackle logistically. The production team needs to cover so much ground with limited resources. Generally, crews placed static cameras in crucial locations and then supplemented the coverage with mobile camera operators in other key places. The biggest hurdle is getting those signals from the golf course back to a control room, in an area with potentially low bandwidth.
LiveU has perfected this with its complete live video EcoSystem. The production environment consists of LiveU hardware/software, third party integrations, and more enriched features that allow crews to do more productions for less. This means no need for staff or engineering on-site, no need to worry about bandwidth and connectivity – every camera can move freely and transmit to the remote studio location for real-time production. And with LiveU's solution, customers can see up to 70% in cost reductions for live event production, as well as reducing your carbon footprint to maintain a more sustainable production environment.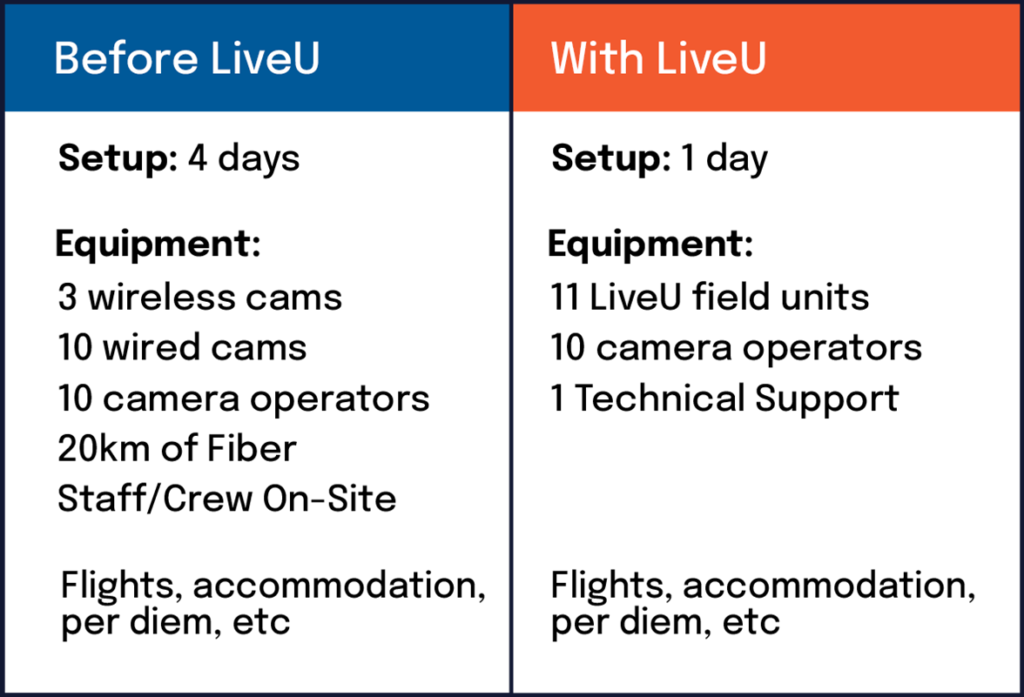 How Does It Work?
By deploying camera operators with LiveU's portable transmission units (LU800, LU600 or LU300S), customers have the ability to roam the golf course and follow marquee groups through the action. Using our patented bonded cellular technology, live video feeds are distributed from their camera and field units back to a LiveU server. This server could be located in your remote master control room, on-site facility, or production truck and immediately integrated into the live-switched production.
This also means that by leveraging a plethora of other LiveU production features you can communicate with your crew in the field directly through your LiveU device by using IFB and Audio Connect. LiveU Audio Connect is an additional license that gives you the ability to have 2-way communication from the field to studio, using only the audio jack on your LiveU encoder. There's no need to use another audio system when you already have LiveU deployed in the field.
So, What's Needed?
There are a few different workflows we've seen used in golf productions. This guide will show you three different workflows and the technology needed to bring golf production to life.
Workflow 1: REMI Production
Historically, live sports were produced using satellite or production trucks, which is a more costly solution, requiring the running of cables and booking of satellite time – all of which consume countless hours of time and energy and chip away at budgets.
REMI Production has become the new standard for golf productions. Why? Because of the tremendous cost savings, simplification of production and how the workflow enables A LOT more content to be created and transmitted live.
By deploying camera operators with LiveU units (LU300S, LU600, LU800) in the field, they can easily roam freely, with no cables tied to them or keeping them in one spot. This means you could have multiple camera operators covering one hole, spread out along different parts, or follow marquee groups as they play their round through the day.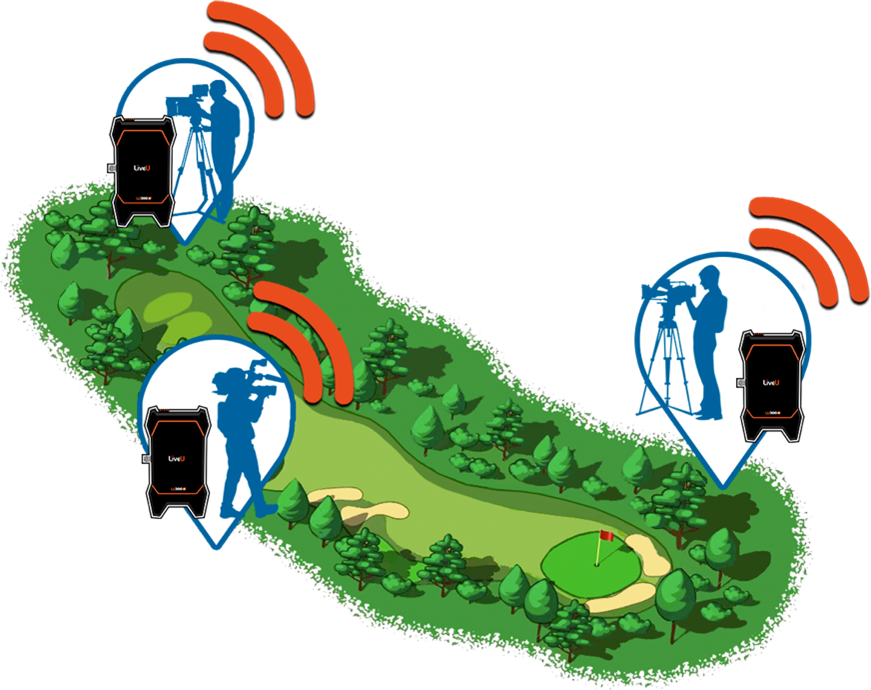 These live feeds are then sent back to your production facility using LiveU's bonded cellular protocol, LRT™ (LiveU Reliable Transport). LRT™ is the video and audio protocol developed by LiveU and trusted by customers for over a decade. It's not only a point-to-point, low latency, high resiliency protocol, but it was built to accommodate the special properties of cellular and LTE networks. In fact, to save time and headaches you can easily test the cellular networks in the area before streaming at all, making sure it's a high-quality and reliable connection for your content.
But how is your production facility receiving the feeds? There are a few different methods for this.
LU2000 or LU4000 server. The LU2000 or LU4000 are LiveU decoders, meaning they receive your live feeds from the field and plug directly into your switcher to integrate into your production. These decoders are plugged in via Ethernet and fit into any 1U production rack.
Cloud Server Channel. LiveU offers receive channels in the cloud, meaning no need for physical hardware. You can think of these channels as a LU2000 or LU4000 in the cloud. Also using LiveU Cloud Connect, you can seamlessly interconnect your high-quality, low latency live video feeds from the field with any of your cloud-based production platforms.
Check out some golf productions leveraging LiveU's REMI solution:
Workflow 2: Adding Line Cuts
We've also seen more creative ways to cover golf that may require a little more cabling but could make for a more cost-effective and easier production. By producing multiple line-cuts throughout the golf course and sending those back to your facility using REMI Production, you could leverage fewer LiveU units for transmission and send more camera feeds to use in your production.
This means setting up small production switchers on the course, possibly covering two or three holes, wiring your cameras to it, and producing a line cut of those holes, which are then transmitted back to your production facility using your LiveU unit.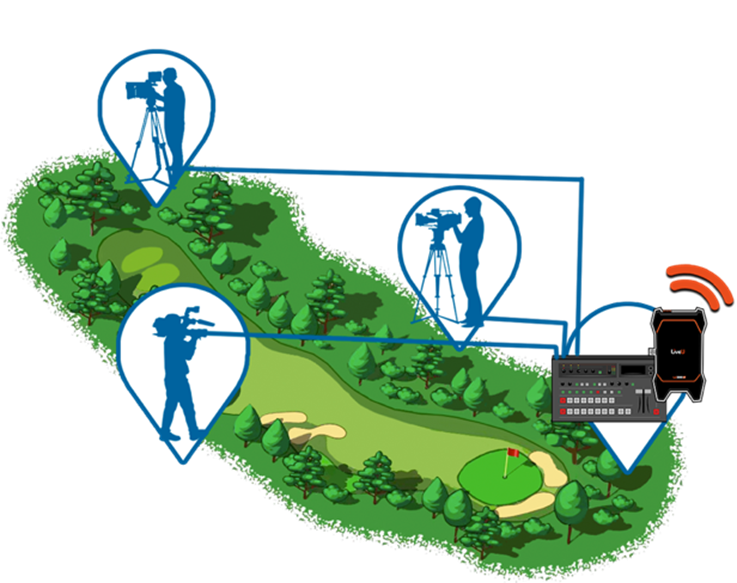 University of Oklahoma Assistant Athletic Director, Jacob Potter leveraged this solution in 2020 by cabling each camera back to a tee box or green location into a small switcher. By producing small line cuts from each location, the crew was able to produce an 11-camera production by only using 4 LiveU encoders.
Workflow 3: Outside Broadcasts
The newest of LiveU's solutions offers a different solution to REMI Production. Sometimes, production companies and broadcasters are already going to have a production truck on site for their golf coverage. But, with LiveU's On-Site Production solution you can leverage a combination of wireless and wired feeds, shortening your workflows by significantly cutting costs and set-up times.
Normally for production trucks, you require a hard-wired internet connection to receive live feeds from the field. However, LiveU's new solution allows you to turn your physical LU2000/LU4000 decoder into a mobile receiver. This mobile receiver uses cellular bonding for its downlink, meaning the same high-quality, reliable method of sending live video we usually use for uplink, is also being used at the other end. This allows you to bring your live feeds into your production truck seamlessly and wirelessly, using cellular connections, with no prior set up required.
Producing Even More Content, For Less
Hopefully this has given you some insights into how you can leverage LiveU for your next golf production. Producing events using any of these workflows opens the door for a vast number of opportunities. Getting more eyes on your digital content means more potential sponsorship opportunities, which can lead to even more engagement and monetization for you.
Be sure to reach out to us with any questions