IP Bonding Explained: Why It Matters
Failing to deliver your live stream to the cloud, studio, or any online destination is the scariest potential single point of failure for any live producer. IP bonding is the simplest and least expensive way to ensure your stream goes through. This article describes what IP-bonded streaming is, how it works, and how major players in this space support it.

Background
Whenever you stream using a single transmission method, whether Ethernet, WiFi, cellular or even satellite, if the connection goes down, your production goes down. IP bonding ensures against this by combining multiple signals–including all of those mentioned above–into a single production transmission.
You see this in Figure 1, where a camera person is transmitting the live feed from a camera using the combined signals from multiple 4G/5G modems with satellite and WiFi. Depending upon the field unit, you can transmit multiple camera inputs simultaneously or just the single camera shown.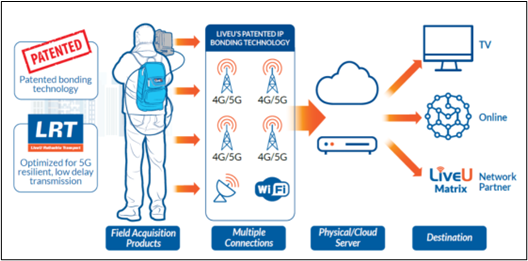 Under the hood, the compressed video file is divided into multiple packets distributed using all available transport mechanisms. Once delivered to the cloud, the packets are reassembled back into the original video file, which you can distribute to multiple private or public destinations, including social media. When sent to a LiveU decoder, the packets are reassembled and then typically input into a linear TV production via HD-SDI outputs on the decoder.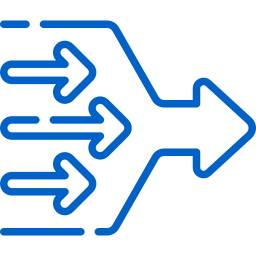 The Need for IP Bonding
IP bonding was invented to address the reality that for those attempting to deliver their live streams via early cellular technologies like 3G and 4G, one connection was never sufficient for throughput or reliability. Bonded streaming technologies use multiple cellular connections, plus available WiFi and Ethernet, to improve both characteristics and enable many contributors to affordably deliver high-quality video from locations that otherwise would have been inaccessible –practically or economically. IP bonding replaced costly traditional transmission methods, providing far greater flexibility.
Though 5G is a significant step up in throughput, it doesn't eliminate the need for multiple-connection bonding. Certainly, under ideal circumstances, 5G can deliver a single or even multiple 4K streams. But the reality is that 5G coverage and throughput will vary by geographic location and perhaps even the day or time. A tower free from traffic one day could be totally congested the next. Of course, if you're gathering news, producing sports, or shooting any event involving a crowd, you probably won't be the only producer seeking 5G transport.
Combining multiple 4G and 5G signals via IP bonding provides both resiliency and redundancy. This bond allows your transmission to leverage multiple connections with one or more providers to ensure signal throughput – even when conditions are far from ideal. Combining 4G and 5G signals with Ethernet, WiFi, or satellite, when available, provides even more bandwidth and headroom.
How you use IP bonding will depend upon the specifics of your production; here's a partial list of the most common uses of IP bonding:
As the sole transport for live feeds, incorporating multiple transport methods (different sources of IP bandwidth) for throughput and redundancy.
To replace single-transport encoders or simplify and enhance smartphone-driven production workflows.
To provide affordable redundancy for productions broadcast via fiber or satellite transport or to replace these transmission mediums providing significant cost savings.
To gain the flexibility to locate a camera where wired connections aren't available, allowing much more dynamic and engaging coverage from every angle.
To transmit live feeds from outdoors to any cloud production tool to support REMI (remote production) workflows.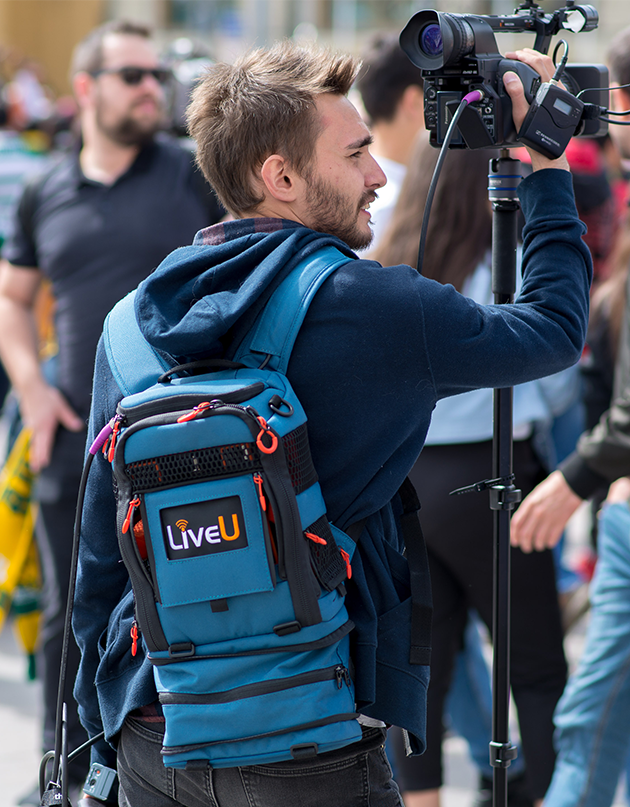 One of the most common uses of IP bonding is to turn to cellular only when your primary path fails. This feature is called Least Cost Bonding. For example, when using a LAN drop at a venue, you can connect your LiveU encoder to the LAN to leverage its built-in cellular connectivity. With Least Cost Bonding enabled, the unit will use Ethernet and WiFi first and disable cellular unless bandwidth drops below a certain level. That way, you avoid cellular charges unless and until cellular becomes necessary.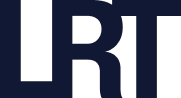 Driving IP Bonding – LiveU Reliable Transport (LRT™)
IP bonding is supported in all LiveU field units and encoders, including LiveU Solo, LU300S, LU600, LU800, and our latest rackmount REMI encoders, the LU610S and LU810. It's also supported in all LiveU decoders, including the LU2000 and LU4000 receivers. Driving this integration is LiveU Reliable Transport, or LRT™, a point-to-point, low latency, high resiliency LiveU protocol created to accommodate the special properties of cellular and LTE networks and the specific demands of IP bonding.
For example, one key capability is packet ordering, which simplifies reassembling the video after the packets are distributed using different transport mechanisms. LRT™ also applies a technique called dynamic forward error correction to improve reliability and throughput. Briefly, forward error correction transmits a small amount of redundant data with the primary stream to enable the decoder to identify and resolve transmission errors without needing to retransmit any data. LRT™ applies FEC dynamically, decreasing the amount of redundant data when the transport is relatively error-free and increasing it when errors are reported to minimize the impact of these errors.
Another critical feature of LRT™ is a streaming-friendly form of recognition and resend that can acknowledge large groups of safely delivered packets and efficiently request retransmission of failed packets. Finally, LRT™ is closely integrated with LiveU encoders and can adapt the video's bitrate up or down to match the actual throughput. This ensures the highest-quality possible stream even when throughput is changing.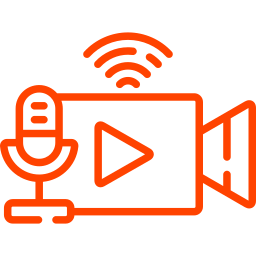 Accessing IP Bonding
IP bonding is supported in all LiveU field units, decoders, and cloud services. Enabling IP bonding is simple. First, you connect to the various available transport mechanisms, plugging in Ethernet, connecting to WiFi, and enabling any cellular modems within the unit. Then you configure options like Least Cost Bonding discussed above and any others, or simply accept the default settings. The field unit or rackmount encoder will take it from there.
Using any single transport mechanism–however reliable–introduces a real and unnecessary single point of failure for any live production. Eliminate the risk, and improve your streaming delivery's reliability, resiliency, and throughput with IP-bonded streaming.
LiveU has multiple solutions and a wide variety of business models to cater to different budgets and production needs. Contact us to find the right solution for your production needs.