Leading UK Production Company Shine TV Creates Innovative Production Gallery With LiveU For New Sky One Series The Heist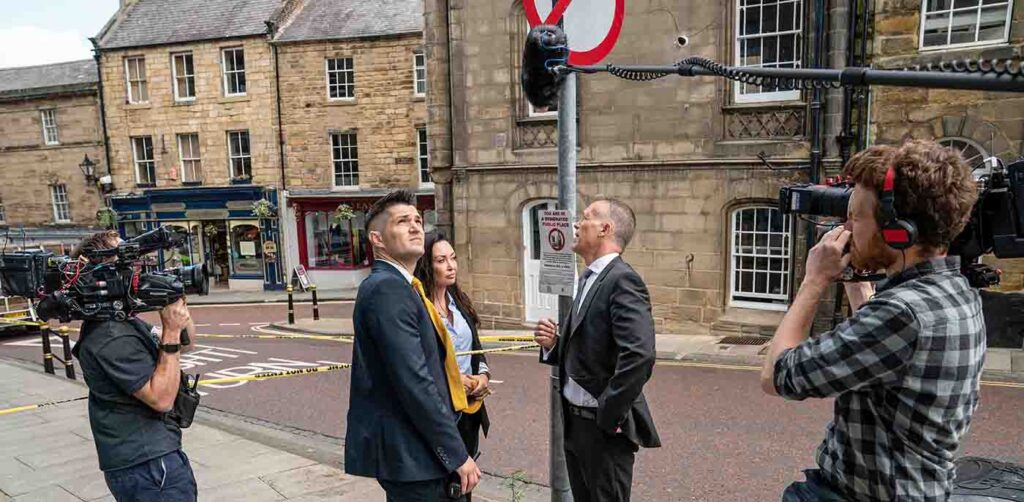 Given the complexity of the production, Shine TV had a problem to solve and turned to LiveU to do so – a real technical first in the factual entertainment field
With Sky having commissioned Shine TV to produce the latest in ground-breaking factual entertainment – The Heist – the producers were faced with a considerable production challenge and, with the help of LiveU's UK partner Garland Partners, found LiveU to be the perfect answer. Garland Partners oversaw technology supply and provided support.
The Heist, which airs on Sky One from 9th November 2018, is a brand new factual entertainment format, produced by the company behind the Channel 4 series Hunted and The Island with Bear Grylls. The show is set in North Yorkshire, UK, in the town of Thirsk, and involves 10 ordinary members of the public who carry out a heist, stealing £250,000 from a cash-in-transit van. They then split into five teams of two and for the next 16 days have to try and keep their £50,000 share of the money.
At the same time, they are pursued by 14 former police detectives. To add authenticity, a witness hotline is created, the local paper, The Northern Echo, runs a story about the heist and a public appeal for information is held.
Series Editor at Shine TV, Tom Hutchings, explains the challenge, "Filming the detectives was obviously easy, using overt, traditional ways of shooting. But when we came to filming the thieves, doing that in a conventional way would clearly compromise their identity and would mess up the whole scenario. When we first discussed the concept with Sky, we thought this may well be an un-filmable show, but what we've created is a fantastic piece of must-see TV."
"The Heist is a high stakes, entertaining factual series, in the tradition of The Island and Hunted, observing how likeable, ordinary people cope in extraordinary circumstance", explained the showrunner, Matt Bennett. "This series unashamedly taps into the love of a good detective novel and breaks new ground in factual entertainment storytelling and the way we film it, mixing traditional filming techniques with emerging technologies such as 4G transmission and covert cameras."
Having overcome this issue, using tiny hidden cameras and smartphones, as well as long lens filming from vans hidden around the town, Shine then needed to solve the problem of how to keep track of the storytelling aspect of each Thief team. Shine turned to BT's Media & Broadcast division, who in turn worked closely with Garland Partners and LiveU. They deployed LiveU – multiple portable transmission units and LU-Smart smartphone apps plus associated LiveU servers – to send images from those cameras and phones back to a story producer for each Thief team.
By using BT's new M2M SIM cards for their 4G network, this allowed the data traffic to operate above the normal consumer 4G capacity at significantly faster speeds. Thanks to this great connectivity the story producer could see everything that the Thieves were doing, therefore producing the narrative as they went along.
Hutchings adds, "We created what we think is the world's first low-res broadcast gallery. We capped the LiveU streams as they weren't for broadcast, rather an essential editorial tool. As well as being able to view the relevant images, the story producers could also use LiveU's IFB talkback capabilities to communicate with camera people when required. This created a seamless workflow. It worked brilliantly, and it was very cost-effective, too. We are definitely looking at extending our use of LiveU across other formats – 100 per cent we are."
Paul Shepherd, Regional Sales Director, LiveU, said, "As market leader in the sports and newsgathering field, we were intrigued by this opportunity. This is a genuinely unique use of our technology and we are really excited that it solved the problem that Shine TV faced. Factual entertainment is a new arena for our technology and we're eager to see what they come up with next."