3 ways LiveU's new On-site Production Solution can revolutionize your next live sports production!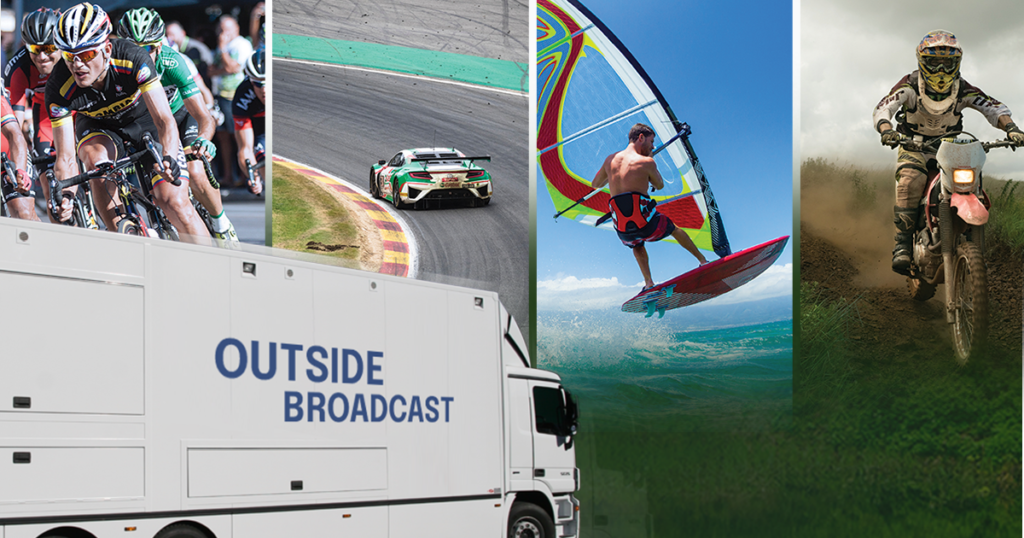 Radio frequency (RF) and microwave transmission technologies have been used in multi-camera live sports productions for several decades. These technologies have been a cornerstone of live sports broadcasting since the early days of television, with major sports events relying on them to transmit live footage to viewers around the world.
RF and microwave transmission have been used particularly successfully in the live production of outdoor sports such as cycling, motor racing, golf, skiing, water sports and tennis, where the line-of-sight requirement can be achieved. These technologies also offer low latency, which means that there is minimal delay between the live action and the footage that is being captured. However, setting up line of sight infrastructure, cabling, sourcing stable internet, pre-event planning and staff and equipment travel, come with substantial cost, risk and, often, significant hassle.
Sport has moved on since the early days of television. The demands placed on live sport productions to bring the viewer closer to the action and the demand for ever more live sport content have increased dramatically in the decades since. LiveU has been leading the way in terms of enabling second and third tier sports to deliver high quality live sports productions in a way that was possible only for top tier sports.
Arrive later, set up faster, produce better
LiveU's newly launched On-site Production Solution enhances outside broadcast productions by adding remote production efficiencies while shortening the workflow. Using the LiveU EcoSystem with LRT™ (LiveU Reliable Transport), the team can place their cameras in any location and bypass local network concerns at the click of a button. The solution creates a private broadcasting environment by leveraging the local cellular network and removes the need for line-of-sight transmission. Live video is transmitted directly from LiveU field units to the OB truck in a highly resilient manner without the need for cables.
If you are a production company, broadcaster or sports organization looking for a way to reduce the costs and complexity and increase the value of your live sports broadcast, then look no further. Here are three reasons why you need LiveU's On-site Production Solution.
1- Low cost minimal setup
Traditional multi-camera on-site productions are complex to set up, requiring RF equipment, antennas, cables and pre-sourced internet capabilities to be deployed. LiveU's On-site Production Solution significantly reduces assembly and staff time, travel and equipment transport which save on costs and your carbon footprint.
2- Fast track to live
The solution enables bonded wireless transmission from the field straight into the OB truck in a single click, with no need for a fixed internet connection. Removing the burden of sourcing a fixed external internet connection is a huge win for sport on-site production teams. Now, in just one click, the LU-Link cloud service, which sits at the heart of the simplified ecosystem, pairs between the field units and the receiver on-site, turning it into a Mobile Receiver.
3- Limitless production value
The solution makes the benefits of 'on-site' available to live sports productions where it would have been cost prohibitive before and makes it possible to expand existing productions with new and innovative content. On-site production teams are free to plan their shots based on the story they want to share with the fans, rather than being constrained by line-of-sight or cables.
An early customer of the new solution, Sam Schrade, President, DNA Studios LLC, said of his experience, "The solution works fantastically and opens up a lot of creative use cases. We used it at Astros Baseball Park as a wireless camera, and even brought it into the depths of the stadium – places RF systems often struggle with".
Elevating live sports productions at a fraction of the cost
LiveU's On-Site Production Solution is not intended to make RF and microwave transmission solutions redundant, particularly given that many premium live sports broadcasts rely heavily on the low latency that it can deliver.
The solution empowers and enables the sports broadcast world with the tools to elevate live sports productions at a fraction of the cost of line-of-sight solutions. In particular, removing the burden placed on on-site production teams to source a fixed internet connection solves a historical headache. With this new offering, LiveU continues to revolutionize the way live video is produced and delivered, making it more accessible, cost-effective and efficient.