LiveU Brings Eight Days Live from the 2018 Silk Way Off-Road Rally in Russia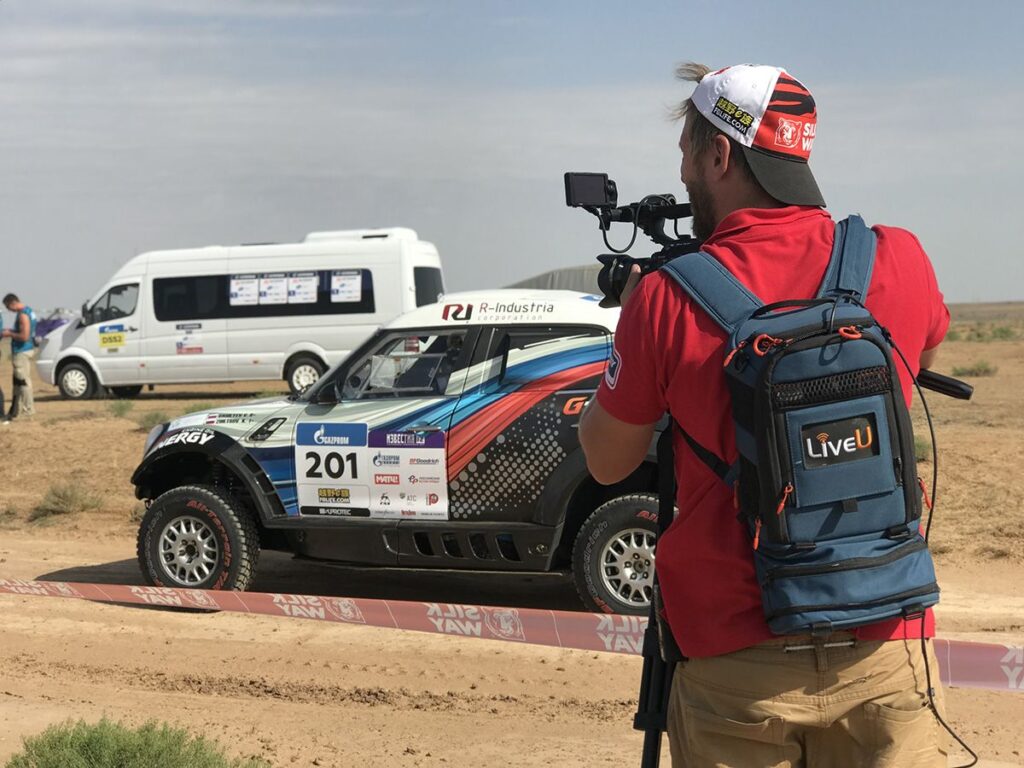 For the first time, the extreme sporting competition was streamed live to domestic and international audiences during the rally itself
LiveU and Auto24, the official Silk Way Rally 2018 production and broadcasting company, have joined forces to bring all the excitement of the international off-road rally in Russia to car race enthusiasts everywhere. For the first time, live transmissions were shared during the rally itself. With 50 participating teams, the annual eight-day rally along the historical silk way is one of the highest-profile, challenging sporting events in the country. Competing in trucks, jeeps, and large cars, international teams travel across the same route as merchants journeyed hundreds of years ago, crossing remote desert regions and rural terrain.
LiveU's LU600 HEVC units were used for the start and finish points, along the route in the Russian team truck and overhead on a helicopter. LiveU's Xtender remote transmission device was used in both the truck and the helicopter, ensuring extra resiliency and high video quality from the most bandwidth-challenged areas.
The feeds were streamed live via an OB van with Auto24's Moscow studio taking care of the remote production. LiveU's remote production solution enabled Auto24 to live stream all the feeds simultaneously to the Moscow studio for switching and remote production. This enabled simplified onsite logistics and operations, and reduced costs, allowing the production team to work conveniently from their studio. Video then went live to Silk Way Rally's Facebook, and YouTube pages as well as Auto24 and other international TV channels.
Dmitry Efimov, CTO of Auto24, said "In previous years, we were limited to covering the start and finish points using fiber transmission. This year we were keen to show all the action along the route. LiveU's technology provided the video quality and robustness, as well as the portability, to help us achieve our goals allowing viewers worldwide to follow every stage of the rally from beginning to end."
"We're proud that our partnership with Auto24 brought an entirely new dimension to the rally's live video coverage with the LU600 HEVC performing well in the most extreme conditions. All the ingredients were there for an incredible viewing experience, with the unique landscape and extreme racing conditions," said Alex Gechtman, Regional VP Sales Russia, CIS and Africa, LiveU.
The Chinese part of the race is scheduled to take place in September 2018.
See the highlights here: www.youtube.com/watch?v=-wmJJF8pAec
About the Silk Way Rally
Silk Way Rally is an international off-road rally. Since its creation in 2009, it has been held in Russia, in Central Asian countries, and China. The eighth start ceremony of the Silk Way Rally took place in the Russian city of Astrakhan on July 20, 2018, and the finish podium greeted competitors on July 27, 2018, on the Red Square in the heart of Moscow. The event was supported by the Russian general partner of the rally, Global Energy Company "Gazprom", and the Chinese leading automotive digital platform, FBLife.
The established cooperation with almost 60 largest international media holdings ensured the coverage of the racing process during the two rally weeks in 196 countries, with a total audience of almost 2.5 billion people.
About Auto24
Auto24 is a unique TV channel devoted to various automotive subjects: live transmissions from top Russian and international auto/moto championships, main auto/moto events and shows broadcasting new formats of TV programs, special projects, and exclusive interviews. The extremely exciting and unique style of Auto24 programs gathers whole families in front of their TV screens.
About LiveU
LiveU is driving the live video revolution, providing live video streaming for TV, mobile, online and social media. Let your audience become part of your story with high-quality and flawless live video, transmitted from anywhere in the world, through the use of our patented bonding and video transport technology. LiveU creates a consistent bandwidth and a reliable connection so you can acquire, manage and distribute high-quality remote live broadcasts over IP. Our broad portfolio of products sets the industry standard for live video production. From backpacks to smartphones, and satellite/cellular hybrid to external antenna solutions, LiveU offers a complete range of devices for live video coverage anytime, anywhere. In addition, LiveU offers extensive cloud-based management and video distribution solutions. With over 3,000 customers in 100+ countries, LiveU's technology is the solution of choice for global broadcasters, online media, news agencies, and social media. For more information, visit www.liveu.tv, or follow us on Twitter, Facebook, YouTube, LinkedIn, or Instagram.