LiveU Shortens IP Workflows with its New SMPTE ST 2110 Receiver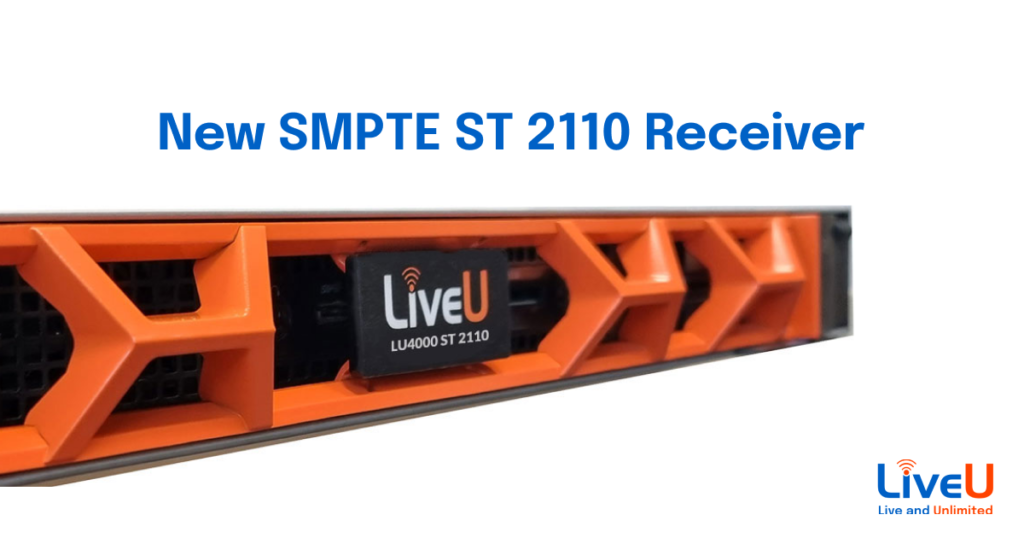 LiveU EcoSystem further expands to fully support ST 2110, seamlessly integrated with LRT™
As the broadcast industry transitions towards end-to-end IP workflows, LiveU has leveraged its leading IP-video experience to today release a single 4K/Quad HD video receiver for ST 2110 broadcast facilities. With this latest addition to the LiveU IP-video EcoSystem, the company is providing an efficient and adaptable way to receive high-quality LRT (LiveU Reliable Transport) live content feeds from any LiveU EcoSystem device and then seamlessly output them as 2110-compliant streams. It removes complexity, providing uninterrupted connectivity from the field to the facility. LiveU's LU4000 ST 2110 operates as an all-in-one receiver in the video chain, reducing IT costs, time and overhead while keeping everything in sync.
Building on LiveU's LRT™ protocol, the receiver enables a resilient, low latency IP-to-IP workflow for receiving a single 4K video feed or up to four full HD live feeds, adding to the operational scalability of ST 2110. The LU4000 ST 2110 can be swiftly deployed regardless of network configuration. Tasks have been automated to shorten the workflow, including the routing, switching and processing of separate bonded video, audio and data streams.
The LU4000 ST 2110 is fully NMOS-compliant, making device discovery and control easy. The product architecture future-proofs it to allow further workflow simplification developments, providing customers with complete peace of mind and effortless upgrading.
Also vital is, of course, redundancy and the LU4000 ST 2110 adheres to the highest 2022-7 SMPTE-defined path redundancy standard. Customers benefit from stable stream transmission along with the consistency afforded by hardware-based Precision Time Protocol (PTP) feed synchronization, again providing complete peace of mind via rock-solid operation.
Yulia Rozmarin, Director of Product Management, LiveU, said, "IP-video is increasingly flowing through our customers' entire workflow, so it's no surprise that nearly all our customers building or upgrading a broadcast facility are thinking 'IP first'. While the benefits of a full ST 2110 live IP-video production facility are clear, our customers have also reported that complexity needs careful management. For this reason, we're delighted to be able to reduce this complexity, removing the need to manage and maintain separate receivers and transcoders and simplifying the flow between LRT™ and ST 2110. Now our customers can connect the powerful creative possibilities opened up by the LRT™ powered LiveU EcoSystem directly with their SMPTE ST 2110 facilities in a much simpler and more robust manner."
Rozmarin added, "Adaptability and flexibility are key pillars of what we do, with customers confident in the knowledge that we will continue to support them into the future, be that across IP or the still-important SDI."
Don't miss the opportunity to explore the LiveU EcoSystem and see all the latest IP-video solutions at IBC2023. Visit us in Hall 7, Stand B.19. To schedule a meeting or guided tour, visit get.liveu.tv/ibc2023/.