Flying Features Delivers The Santos Tour Down Under From The Sky With LiveU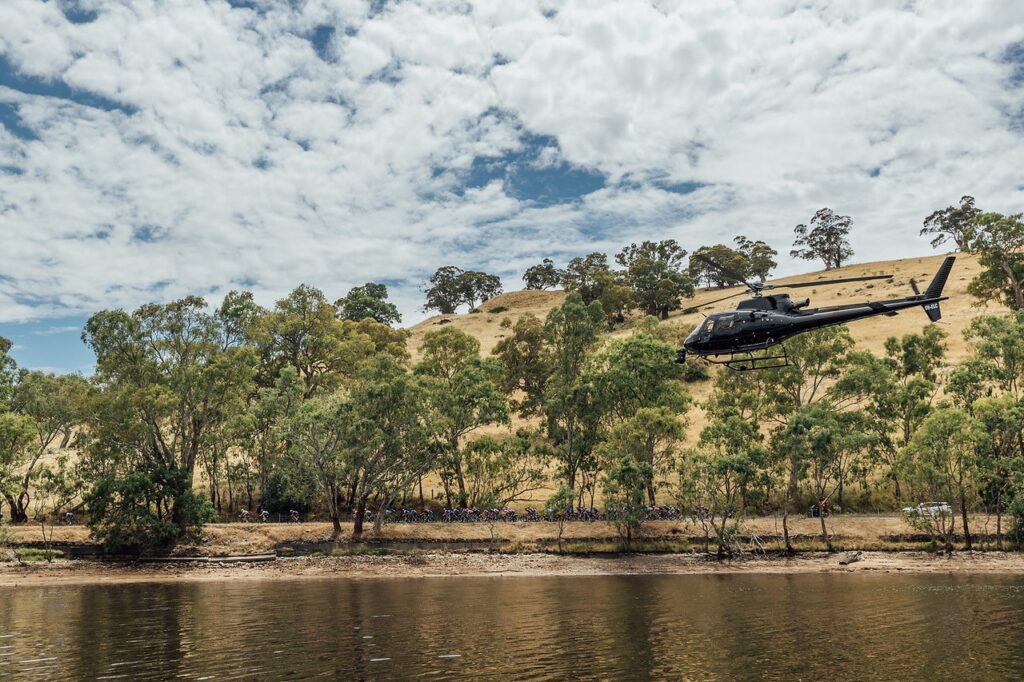 Australia's greatest cycling race brought in HD live coverage to thousands of sports fans from above for the most exhilarating viewing experience
For the third year in a row, the Santos Tour Down Under cycling race was broadcast live from the sky by Australian aerial filming company Flying Features using LiveU's HD live video transmission and remote production solution. The feeds were streamed live to their client, leading global production company Gravity Media, the host broadcast company of the race, with the workflow giving added flexibility and a valuable backup path during periods when the RF receive helicopters overhead were refuelling.

Due to the pandemic restrictions, last year's race was produced remotely via LiveU with the remote production carried out in Sydney. This year, a local OB in Adelaide streamed live to Sydney and back to Adelaide as part of a hybrid production workflow. LiveU's LU600 field unit was used on the helicopter with external static antennas, aerially approved, fixed to the outside of the helicopter. The aerial footage complemented Gravity's live coverage on the ground across the almost 1000 kilometres course.

Adam Huddlestone, co-owner of Flying Features, said, "LiveU's video quality is remarkable. Thanks to its rock-solid reliability, we were able to take live shots from the remotest areas. LiveU doesn't need line of sight so we could go as low as we wanted, with creative flexibility, without thinking where we needed to go. We used LiveU for the whole race, four hours each day, following all the cyclists from the sky. We were really happy with the performance throughout the week, going from 0 to 500 feet, with only one second delay."

Longstanding LiveU customers, Flying Features uses LiveU for many high-profile live productions, including the annual Rolex Sydney to Hobart Yacht race, which starts in Sydney on Boxing Day and finishes in Hobart, Tasmania. The LiveU technology is an essential tool for editors covering the race, providing rushes of what's being shot to their post-editing team in advance so that they can optimise coverage plans. The flexibility of the LiveU solution allows all aspects of the race to be covered with a focus on agile storytelling as the race leaders evolve over the multi-day event.

"Where live productions are heading, it is only a matter of time when LiveU will be used exclusively for covering these kinds of sporting events. Although RF is often used in parallel, LiveU proves its reliability time and time again, with clear cost benefits and increased flexibility. With LiveU, we're able to provide a solution for productions with lower budgets as well, such as the Australian Boat Race, held annually between Australia's two oldest Universities, Melbourne and Sydney which has allowed us to be more efficient and adaptive to the clients' needs." said Peter Davis, co-owner of Flying Features.

Davis continued, "Before LiveU, some of our shoots involved waiting to send the video by hard drive when we arrived back at the heliport but now the live and more efficient workflow means we can hit morning shows, which pick up the live footage immediately. Looking ahead, we believe that drones will play a more central role and we're already using drones to cover multiple live events in conjunction with LiveU".

Chris Dredge, Country and Sales Manager, LiveU Pacific, said, "Flying Features are innovative and longstanding LiveU partners, using their creativity and aerial skills to create incredible live aerial pictures for their clients using LiveU. So many live sports events over the last few years have been able to offer their viewers a more exciting and dynamic viewing experience due to their innovative use of our technology. Both the cycling and yacht races offer important use cases of the reliability and flexibility of LiveU technology, and what can be achieved."