5 Things You Didn't Know LiveU Could Do
LiveU has an abundance of products and solutions – all with different uses and features that you might not have known about. Here are five things LiveU can do:
1. Least Cost Bonding
We understand that cost-effectiveness is an important part of any business. And depending on the location and type of event or broadcast, you could be using a lot of data to maintain your stream's bandwidth. That's why we created a "Least Cost Bonding" feature directly into LiveU Central. LiveU's Least Cost Bonding feature allows you to save money on your live productions.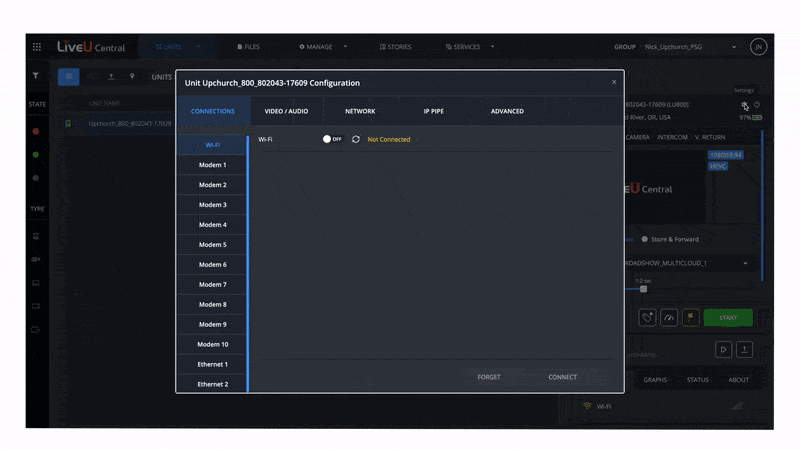 How? While managing your units in LiveU Central, you can set up Least Cost Bonding. In this menu, you can decide what interfaces you would like to prioritize.
For example, you can swap to "Use Ethernet/Wi-Fi First" which will prioritize your wired ethernet or Wi-Fi connections before resorting to using your cellular data. Cellular can be available as back up to your secure internet connection for full redundancy in your transmission. This feature lets you prioritize your connectivity, produce more content without having to increase your data plan, and save you money in the long run.
Get more information on everything LiveU Central has to offer.
2. Live & Store
Of course, "Live" is in our name…but did you know that all LiveU units can also store a high-quality recorded version of your stream for use afterwards?
Live & Store is built directly into all LiveU HEVC products and can be used to quickly and easily store a recorded, high-quality version of your broadcast locally to the unit, or directly to LiveU Central.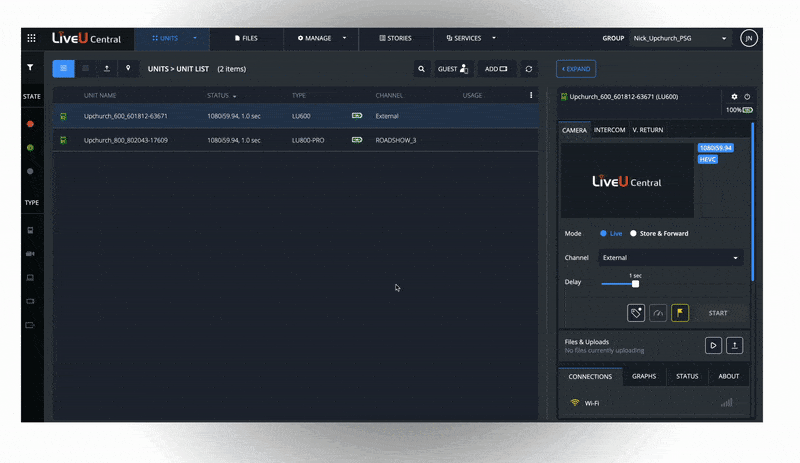 This could be leveraged in an area with poor network conditions if you want to ensure having a high-quality version of your live stream saved locally on your LiveU device. However, it can also be sent back to your LiveU server or grabbed directly from LiveU Central to integrate into your Media Asset Management system. This tool makes it an ideal solution for sending files back to editors in real-time allowing for quick turn-around times to get your content out to the world as soon as possible.
Take a look at our other non-live production solutions.
3. Video Return Portal
Keeping an eye on your live video feeds is a crucial part of your live broadcast.
Offered with LiveU field units (LU800, LU600, LU300S, LU610) or over any mobile device, Video Return enables field crews to get constant live feeds from the studio, ensuring professionally produced and smoothly run live broadcasts. The service guarantees sub-second delay from the studio to the field, with super resilient video streaming based on LiveU's LRT™ (LiveU Reliable Transport) resilient streaming protocol and bonding technology.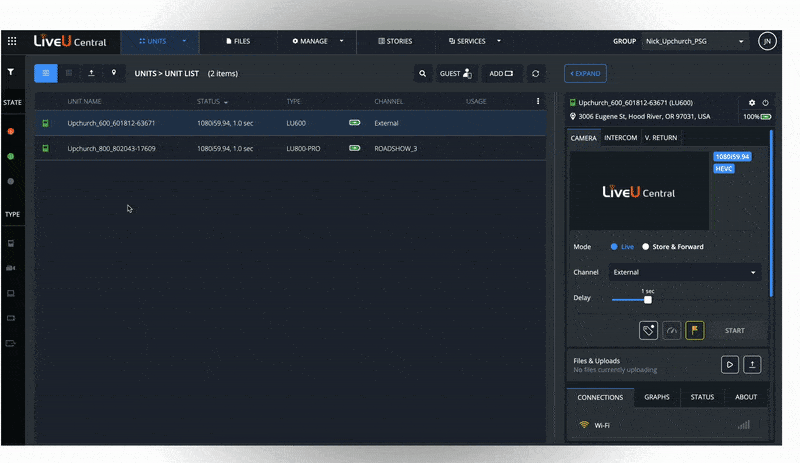 Return feeds can be viewed by anyone in the organization via the LiveU field units using the unit's display or an external connected monitor. But now, the LiveU Video Return Portal gives you or anyone in your organization easy access to your return feeds directly via any PC/tablet web browser.
And if you have multiple units in your LiveU Central group, you can view them all in one place.
Learn more about the LiveU Video Return solution.
4. Audio Connect (Audio Rooms)
LiveU Audio Connect offers high-quality and reliable cloud-based audio solutions, enabling news anchors and producers in the station to communicate easily with camera operators and talent in the field.
Audio Connect offers a variety of communication types: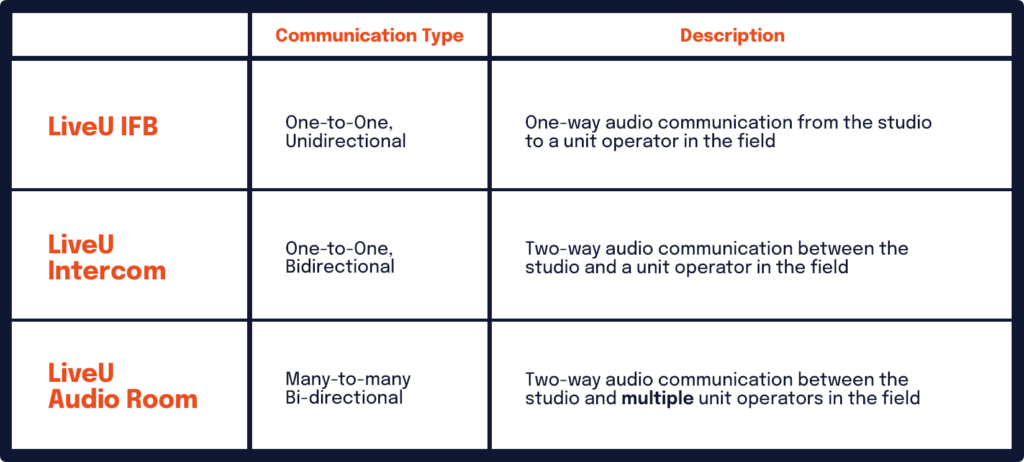 LiveU Audio Room is the newest addition to the LiveU Audio Connect solution and allows you to treat your communications through the LiveU system as an open party line for your entire talent and crew. Stay coordinated and in constant communication in the field using LiveU Audio Connect.
Get more information on Audio Connect.
5. LiveU Cloud Connect
As the industry continues to move into the cloud, LiveU has remained focused on creating cloud-based video streaming solutions to stay on the forefront of innovation. By introducing LiveU Cloud Connect, you can now seamlessly interconnect high-quality, low latency live video feeds from the field with any of your cloud-based production platforms.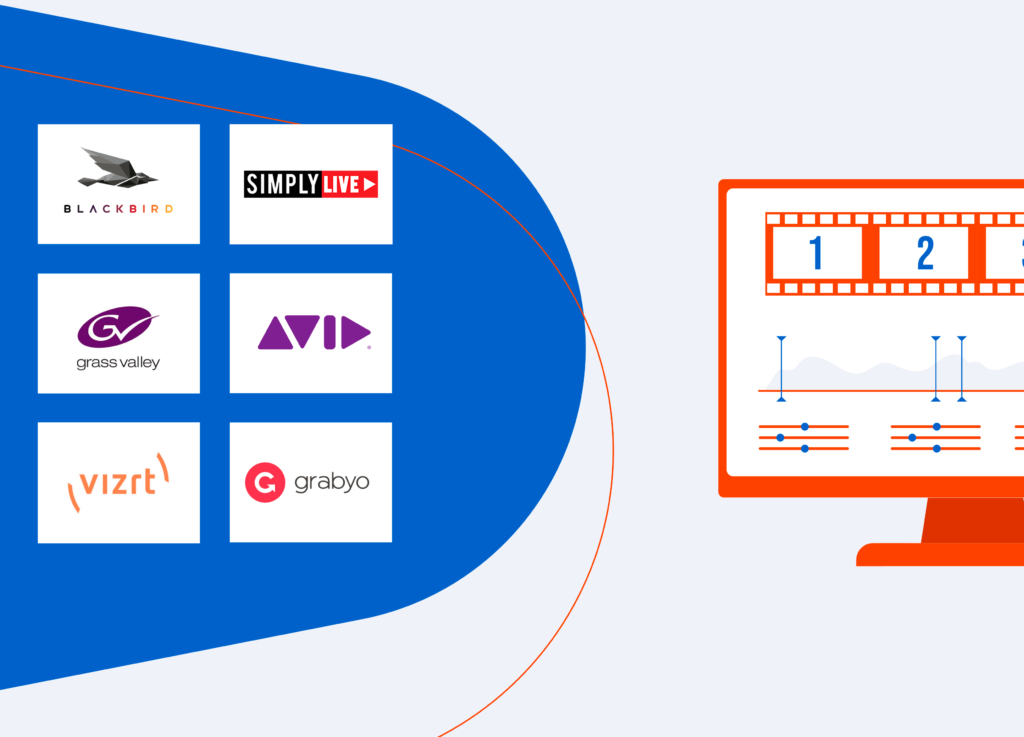 Simply plug your on-site camera to any LiveU field unit and seamlessly send your live feeds into your cloud-based production platform. Cloud Connect offers multiple output options including NDI, RTMP, MPEG-TS and SRT allowing you to take your LRT™ streams and instantly ingest them into your production tool. Cloud Connect expedites any workflow: from remote production/REMI to social media clippings, program localizations and cloud based MCRs. LiveU is pre-integrated with leading video production partners including Avid, Blackbird, Grabyo, Grass Valley, Easylive, Vizrt and Simplylive, Cloud Connect allows you to bring high-quality, low latency live feeds from anywhere into your remote production ecosystem.
For more information on the Cloud Connect Solution, download our ebook here.