7 Tips For Live Streaming Success
Written by Stephen Heywood, Owner/Host of The Tech Buzz & No Boundaries Outdoors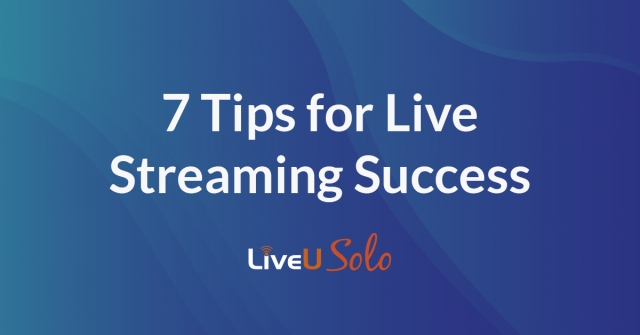 When planning a live show from outside my studio, it's important to anticipate the challenges I may face in the field and pack accordingly. I want to make sure I bring the best of the best live streaming equipment. You are probably reading this and thinking, "Great, I just need to get the gear and I'm set to go live from anywhere."
Not so fast.
I spent many weeks testing, checking, and learning the gear I was to be outdoor live streaming with. Why? Because I needed to know the ins and outs of the hardware and software so I could train my crew on what to look and listen for if any technical issues arose.
Here are a few tips I put together to help you feel more comfortable producing live video from outside your studio.
1- Test, Test, Test
Probably the most important tip is to test your gear. Never assume that it's working or everything is charged. Test and check prior to leaving for the event EVEN if you think your setup is flawless. Nothing is guaranteed
2- Know Your Gear
Take the time to explore your live streaming equipment and what it can do. This way you can quickly take advantage of features like improving low light situations or boosting audio if you're in loud environments.
3- Let Your Team Do It
The best way to ensure they are confident and comfortable with the workflow and setup is to let your team set all the equipment up, from start to finish. As you'll see in the next tip, the more that people know, the more they can help!
4- Explain, In Advance
Explain the setup and the content to everyone on the team before you go. When you're on camera, they need to know how to change batteries, check bandwidth, and support you. Reviewing ahead of time allows your team to ask questions and be better prepared. Never wait until you're at the event to do a run-through!
5- Bring Extras
When I am outdoor live streaming, I take extra HDMI cables, chargers for everything, external batteries, AA batteries for the wireless mic transmitters, XLR cables for the mics (in case the wireless transmitters completely die), and extra microphones. And I still usually need something.
6- Ask For Advice
Spend some time speaking with other live producers. My experience is that this community is always willing to share. That's how I learned about gear like LiveU Solo. I saw video pros doing multi-cam shoots, syndicating content, and going live from remote areas. So I asked them how they did it!
7- Have Fun
Now, this really is the most important tip. I have so much confidence in my setup now because I know I can rely on my team and the live streaming equipment we use. Products like the LiveU Solo make it easy for me to trust that the video quality and connection is set so I can actually enjoy the coverage and content I produce. Yeah, it's a job, but removing complexity on the technical side makes it so much more enjoyable for me and my customers. The technology ultimately allows me to push the envelope, get even more creative, and take my live productions to the next level.