Beyond news: IP video transmission bringing efficiencies and innovation to new vertical markets
Global newsgathering has changed dramatically over the last couple of decades. Historically there were limits to how quickly news crews could be deployed and how close they could get to the location of breaking news stories. The limitations were principally a result of their dependency upon traditional technologies. Fast forward to today, and the widespread adoption of IP bonding technology, pioneered by LiveU, has changed the game for live news coverage forever. Portable transmission units brought a previously unimaginable speed of deployment and mobility for news crews in every location and situation worldwide. They can now broadcast from remote locations, challenging terrains, and even moving vehicles, all thanks to the flexibility and robustness of IP video transmission.
IP bonding works by combining bandwidth from multiple cellular and other IP networks such as WiFi, LAN, and satellite to create a robust "broadband pipe", supporting high-quality and reliable live video delivery from anywhere. LiveU's best-in-class portable and fixed transmission solutions empower broadcasters to bring viewers closer to the story wherever, and whenever, it takes place.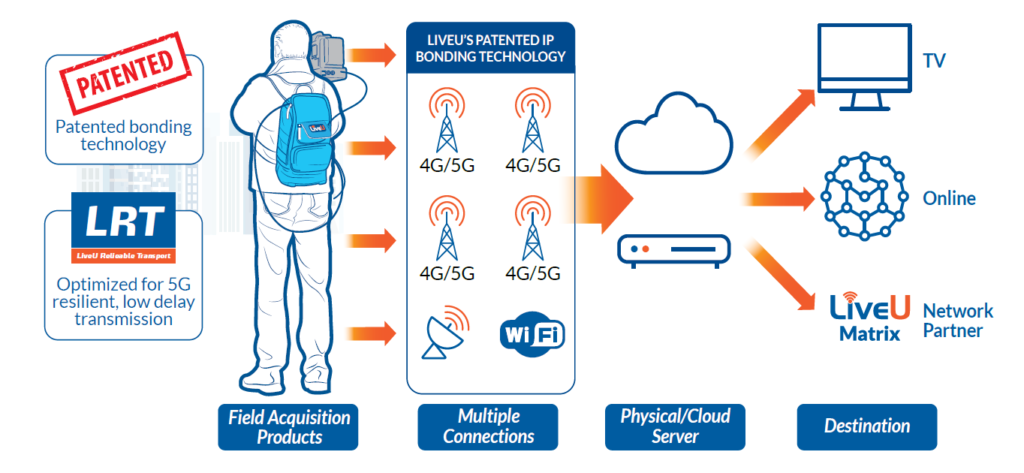 The perfect storm accelerates the adoption of IP video transmission
Technological advancements such as the move to HEVC/H.265 encoding and the launch of high-speed 4G and 5G networks have contributed to the resiliency and reliability of IP bonding, bringing even higher-quality streams and super-low latency and allowing content creators to go live from places never possible before.
The pandemic accelerated the shift to remote production (also known as REMI) much of which has been powered by cloud-based workflows. Remote and cloud-based production enable both cost-savings and compliance with social distancing guidelines. On-site crews and cameras can be reduced to a minimum with everything else handled back in the studio.
These factors along with the reduction in cloud production costs and the growth of internet bandwidth over the last decade have combined to create the perfect storm within which IP video transmission technology has flourished making it attractive for an increasingly diverse range of sectors and use cases, including sports, entertainment, enterprise, telemedicine, public safety and government.
Helping sports to succeed
Live sport broadcasts benefit from IP video transmission solutions with many of the operational use cases mirroring those first adopted by the news broadcast sector, bringing fans closer to the action with dynamic live coverage.
2021 was the first year that J SPORTS in Japan, for example, offered its live OTT service. It initially planned to use only the clean broadcast feed for its coverage of the Yokohama DeNA BayStars' baseball home games. Working closely with production partner, Express, and LiveU's suite of multi-camera IP transmission solutions, they were able to move to a remote production workflow and as a result increase production efficiencies while enriching the live production and increasing viewer engagement.
Yojiro Tomihisa, Technical Manager, J SPORTS, said, "One of the main advantages of remote production is that we don't have to send a big production crew to the site and it's the same in terms of equipment. This is all done using IP, which was crucial for us."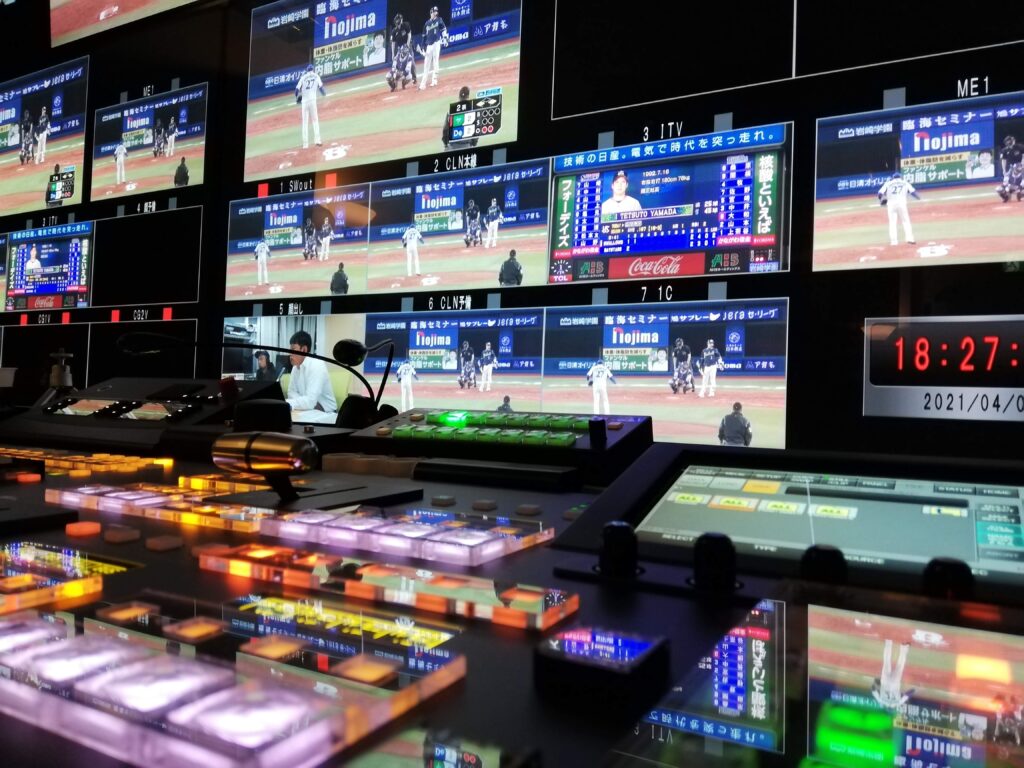 Enabling Governments to communicate more effectively and efficiently
It is critical for government organizations and other officials to get their message out reliably and in real-time for any situation they may encounter. This was illustrated perfectly during the pandemic as governments took on the task of updating the public as the situation evolved. In the United States, governors in nearly every state were hosting daily live briefings to update citizens. In addition, local and regional municipalities also had an urgent need to distribute immediate public health and safety information live with local and national broadcasters, but also the need to do it in a safe manner, limiting exposure.
Commenting on how LiveU technology was deployed to communicate critical information to the local population, New Jersey Governor Phil Murphy said "Keeping the public informed during the ongoing COVID-19 pandemic is a critical function of our administration. LiveU Matrix has allowed New York and Philadelphia market TV stations, as well as national news networks, to access our camera feed and broaden our reach to get crucial information to New Jersey residents."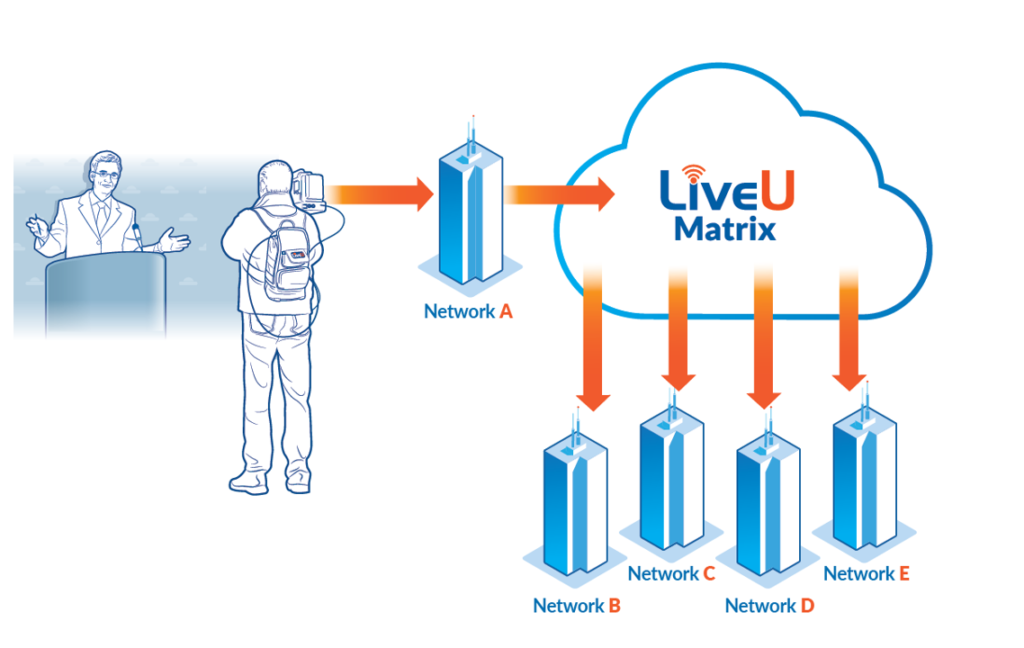 Opening new possibilities in medical care with IP video transmission
There are few more demanding environments than the medical sector, where the margin for error in terms of the reliability and latency of live video transmission can be extremely low. IP video transmission is enabling the secure delivery of high-quality live video to hospitals and clinics and empowering emergency medical services to increase efficiencies. The technology is being used to transmit medical treatments / surgeries to medical professionals anywhere and anytime as well as creating other use cases such as remote consultation, remote monitoring, remote quality control and emergency communications.
LiveU technology is being used to deliver remote medical support solutions in Japan. 5G internet coverage enables a reliable 4K transmission of the medical treatments and surgeries between hospital locations using 4K-HDMI cameras (or directly from endoscopes). The transmissions are recorded, uploaded and archived for future analysis.
Providing reliable connectivity to keep the public safe
Situational awareness is critical for public safety organizations ranging from border control to first responders and IP video transmission solutions can ensure broadcast-grade live video feeds for both human- and AI-based operations.
Pegasus Aviación, based in Spain, Portugal, Italy, Chile and Uruguay, turned to LiveU to help its firefighting services, using the company's mission-critical IP bonding solutions. In need of options that would provide greater connectivity in environments with poor coverage, Pegasus Aviación deployed LiveU for greater visibility, increasing the resources of its lifesaving flight operations.
José Antonio Rodríguez – Head of Projects, Planning and Support at Pegasus Aviación stated, "This technology greatly enhances the information we can obtain from our operations, allowing us to capture live video images from places where it was previously unfeasible. These real-time images play an important role for our customers, allowing emergency managers to make decisions with fresh information from the field. LiveU is an important technological step forward for us and we are looking to expand its use in the other countries we serve through our fleet of over 130 aircraft."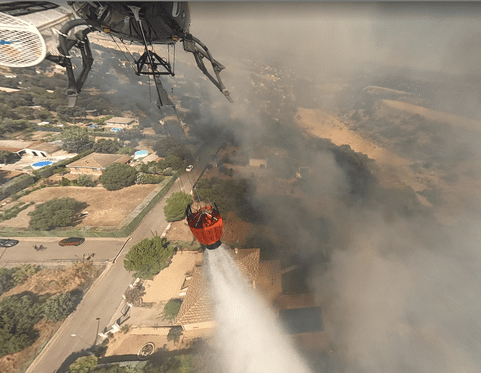 Powering enterprise with the tools to communicate and collaborate their way to success
Business thrives on good communication and collaboration. That's why maintaining live video communication with internal and external audiences and allowing your executives to easily connect with networks all over the world is critical. From live press conferences to internal gatherings, corporate events and real time QA, live video transmission is becoming a necessity for big and small enterprise organizations around the world.
The corporate team at Toyota Motor North America, based in Plano, Texas, understands that in order to continue making amazing vehicles, its leadership team must regularly communicate with the people behind the innovation on the ground level. The adoption of a LiveU solution made it easier for corporate executives to connect with their teams live across 11 manufacturing plants in the US, Canada, and Mexico – without jumping on a plane.
Producing live events that engage audiences and meet business objectives
As restrictions ease following the pandemic, there is an increasing appetite for many other live events, including conferences, exhibitions, music and entertainment, performing arts and more. IP video transmission solutions allow event organizers to produce the highest quality live event broadcasts – whatever the industry or budget – engaging and building their audiences wherever they are.
What's next? Taking IP video transmission into the cloud
As we have outlined here, the IP bonding technology pioneered by LiveU, that revolutionized newsgathering, is now revolutionizing other verticals ranging from enterprise to medical care. Efficiency, reliability and engagement are core to this revolution.
Over recent years, LiveU's services have increasingly shifted to the cloud to enable customers to benefit from the scalability, flexibility and cost savings that come with a cloud production workflow and flexible business models. We're offering end-to-end cloud-based and hybrid solutions and services to enhance the video production workflow – from live contribution and management to orchestration, ingest and distribution.
As we look ahead, we expect to see more and more live broadcasts benefit from cloud-based workflows and, as with IP bonding, LiveU will continue to lead the future of live video.