Boosting efficiency in live productions at NAB 2023
It's clear there are significant financial pressures around the world and the Media and Entertainment sector is far from immune. This is a subject that we've looked at from a variety of angles in detail in our last two articles in InBroadcast, explaining how IP cloud technology can help customers mitigate this challenge. At the same time, with fierce competition for eyeballs, innovation can be combined with cost efficiencies to grow viewership and monetisation. LiveU acts as an enabler for cost savings with greater flexibility and the freedom to deliver creative, engaging live video productions.
We're returning to NAB for the 14th year to share tangible ways that customers can reduce production costs, meet the increased demand for quality content and optimise the monetisation of their content assets by leveraging cloud-based workflows. We will demonstrate our complete suite of live video services – from contribution and production to distribution – as part of an enhanced live video production ecosystem. This is all built on LiveU's field-proven LRT™ (LiveU Reliable Transport) protocol for low latency, high quality and rock-solid resiliency. We'll be showcasing our expanded 5G portfolio with our field units and rackmount REMI encoders and cloud-based solutions including LiveU Matrix, Ingest and other solutions. We'll also be hosting live demos and special programming highlighting the latest trends shaping live video for news, sports, and a host of vertical market segments.
We'll also be coming with a world-first production approach, leveraging LRT™ across the entire workflow. Our goal is to create an agile and limitless video workflow (on-prem, cloud and hybrid) across the entire media chain, bringing even greater production value – for any type of event or budget. New products and services will be revealed closer to the show.
Of course, we'll also be discussing recent project successes, including how our technology was used at the recent Qatar football tournament. The figures showed a massive increase in usage across the board over the 2018 tournament. Over 1,000 field units were used last year by broadcasters and sports organisations from 60 countries, compared to 485 units from 40 countries in 2018. The tournament saw a 160% increase in live sessions to 78,000 with 40% of them over 5G and a 73% increase in data usage, with 62TB of live transmissions. Over 20,000 hours of continuous live broadcasts from Qatar were recorded. Argentina and Spain led the charts with the most data, sessions, and broadcast hours. LiveU's cloud-based solutions were also used during the tournament, including LiveU Matrix for the cost-effective IP cloud distribution of live feeds to global takers.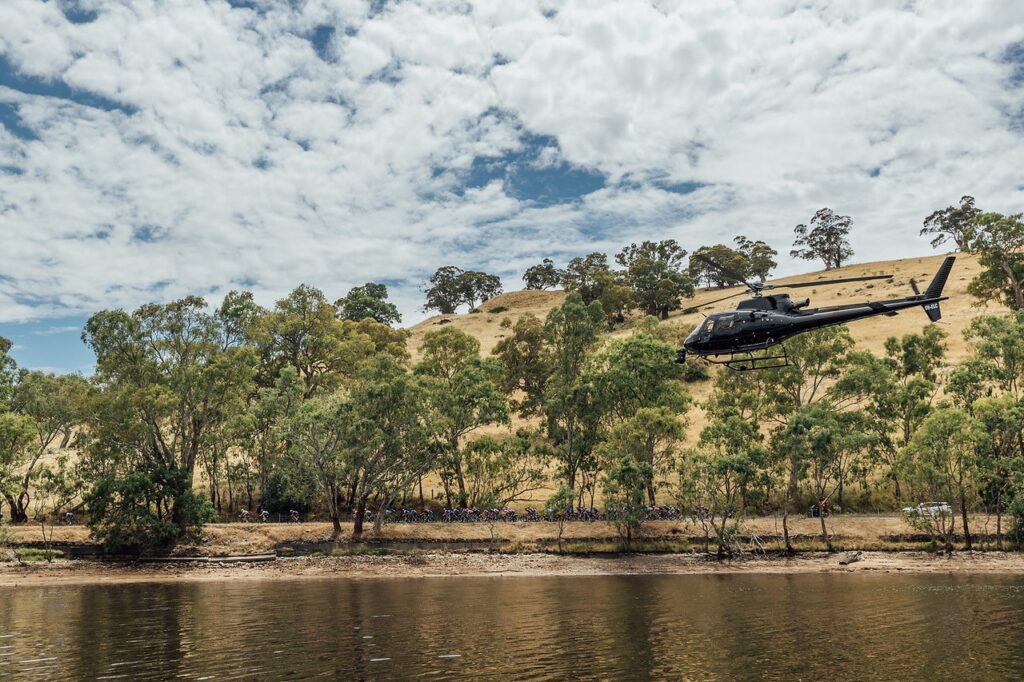 Meanwhile, in Australia LiveU continued its expansion across the sports market. For the third year in a row, the Santos Tour Down Under cycling race was broadcast live from the sky by Australian aerial filming company Flying Features using LiveU's HD live video transmission and remote production solution. The feeds were streamed live to their client, global production company Gravity Media, the host broadcast company of the race, with the workflow giving added flexibility and a valuable backup path during periods when the RF receive helicopters overhead were refuelling.
Adam Huddlestone, co-owner of Flying Features, said, "LiveU's video quality is remarkable. Thanks to its rock-solid reliability, we were able to take live shots from the remotest areas. LiveU doesn't need line of sight so we could go as low as we wanted, with creative flexibility, without thinking where we needed to go."
In the US, last year saw LiveU used for the first time to power in-car cameras for live linear TV. For the 2022 season, The Trans Am Series presented by Pirelli, America's Road Racing Series, introduced a new television package to air all races in prime time on CBS Sports Network. Trans Am relied on LiveU compact LU300S HEVC/5G field units to improve the live broadcast and increase exposure to a wider audience with high quality and resilient video transport to the in-car camera systems.
"Onboard cameras are an integral part of our coverage and so we are using 10 onboard cameras in a race to tell that story," said John Clagett, President and CEO of Trans Am Race Company with Tony Parilla, Owner of the Trans Am Racing Company, adding, "The LiveU has transformed our quality. Our fans are able to watch the racing through the eyes of our driver."
Come and see us at NAB (N3058) to find out how we can help you: get.liveu.tv/nab2023/