Pandemic Ushers in a New Era for Live Sports Production
Written by: Ophir Zardok, LiveU's Sports Solutions and Strategy Director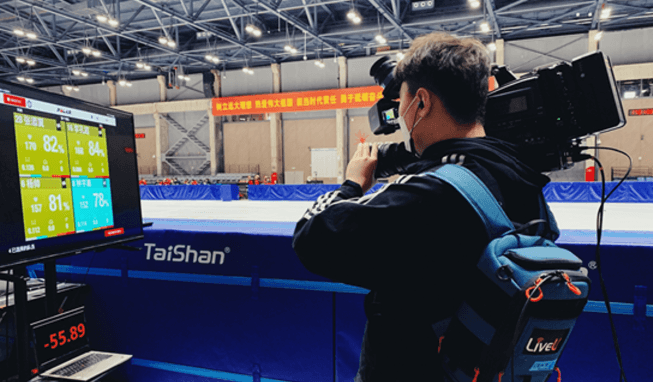 Sport provides us with unscripted moments of drama that continue to draw big audiences. There is simply no substitute for live sport in terms of broad appeal. For example, in the US, the top ten telecasts of 2020 (as rated by Nielsen) include only two non-sport broadcasts.
For sports broadcasters and production companies, the pandemic has meant a singular focus on innovating the experience of one user: the "at home" fan. Remote production, also known as REMI or at-home production, has become synonymous with the pursuit of innovation in the sports broadcast sector during this period.
» Pressure on sports remote production to deliver more
Even before the pandemic hit, the economics for some sports broadcasters operating at the top tier of sport, didn't add up. The increasing cost of media rights and rising expectations of viewers, have required greater investments in live sports broadcasting. Together with the pandemic came a perfect storm.
For the best part of a year, sports broadcasters and production companies have had to grapple with "return to play" protocols and put the health and safety of their staff as their top priority. The reality is that proving your on-site team is fit to travel, adapting to social distancing protocols and providing masks, visors and cleaning materials, to name a few things, also require an additional financial investment.
» Putting health and safety first
IP-based remote production has enabled sports broadcasters and production companies to significantly reduce the size of their on-site crews and ensure that they can fully comply with the evolving regulations.
Speaking about his experience producing the 2020 UCI Mountain Bike World Cup series for Red Bull TV, James Livingstone of Sunset+Vine (a LiveU client) told Broadcast Sport, "On average we were tested for COVID-19 once a week – as we entered a new country and at the start of each event block. Onsite, precautions included social distancing, masks, visors, scrupulous cleaning of all our kits, new mic cubes for each interview and a lot of hand washing and sanitizing. It also meant adapting to the rules for each country in which we worked."
» Delivering more for less with IP bonding
IP bonding, which enables the bonding of multiple network connections (including cellular, WiFi and satellite networks), to create the bandwidth necessary to distribute high quality wireless IP feeds, has empowered sports broadcasters and production companies to deliver more for less. Untethered cameras sending fully synced feeds directly to cloud-based production platforms have the flexibility and mobility to deliver live content from various locations across an expansive venue.
Dave Mazza, Senior Vice President of NBC Olympics Engineering, recently remarked that "this technology gives us ease of use and tremendous mobility, allowing us to transmit while on the move and go live from any venue we wish to on the spur of the moment".
There was a time when connectivity was regarded as one of the main expenses and one of the main risks of IP-based remote production. Advancements in IP bonding technology have changed that. IP bonding has removed the dependency on expensive and inflexible fiber or satellite delivery.
» End-to-end IP transmission and workflow
The pandemic has accelerated the adoption of IP-based remote production technologies due to the need to be more flexible, agile and responsive to the situation. Every piece of the workflow has been honed and shaped to the degree that any network-connected device (from a camera to a tally light) can be controlled remotely, synchronization of multiple feeds arriving to a cloud-based production platform can also be guaranteed and all the tools needed to ensure an intuitive and smooth communication with your onsite crew are taken care of.
» Create your remote production dream team
IP-based remote production also allows sports broadcasters and production companies to create the dream team of replay operators, editors, technical directors, and on-air talent, and leverage this team for multiple live events. This provides consistency, trust, and a high-quality remote production every time. It also means far higher re-use of technology, further reducing cost, while also increasing familiarity with the equipment and therefore innovation.
» What's next for sports remote production?
The PwC Sports Survey 2020 gives us a clue in terms of what to expect in 2021 from remote production. When asked if the live sports media viewing experience "will remain similar to traditional broadcasting" or "become significantly richer, immersive and interactive", an overwhelming majority (86.5%) of senior sports industry executives opted for the latter.
While remote production is not the solution for every live sports broadcast, IP-based remote production workflows and tools provide a new level of flexibility and mobility. This enables sports broadcasters and production companies to deliver more complex productions, capture more intimate moments and produce increasingly immersive live experiences for fans at home. The technology is also opening up the possibility to deliver new use cases that go beyond the at home fan and into areas such as remote refereeing and even remote coaching.
IP-based remote production has helped the sports broadcast sector weather a perfect storm. As we look towards a bright, post-pandemic future, it is set to usher in a new era for live sports broadcasting.