Speeding it Up on Facebook: Live from the German Off-Road Masters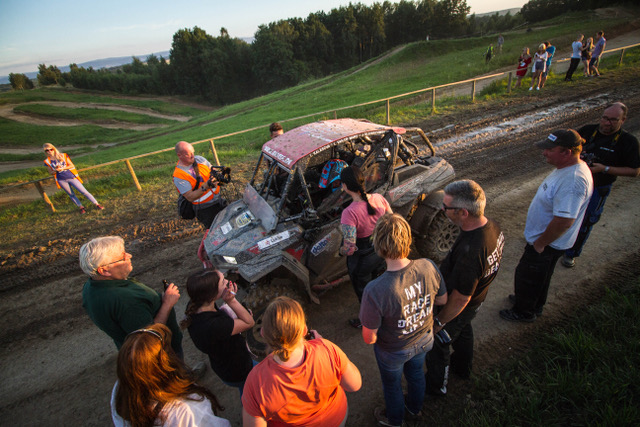 WERK1 Racing put the pedal to the metal this year on Facebook, using our latest mobile high-quality streaming solution to go live from the @OP.Dakar (GORM), allowing Facebook users around the world to join the motorsports event online. During the 24 hour race in Olszyna, the film crew, under the leadership of crew chief Michael R. Podlogar, produced 16 live videos that were streamed in high-quality to the web, putting the Solo solution to the test. Their high expectations weren't disappointed; the hardware unit proved just as flexible and robust as the cross country vehicles that participated in the race.
Not just one, but two Solo units were used for the live broadcast: In order to capture the crucial seconds of the race, one camera operator – equipped with one LiveU Solo – took position right next to the racing track to capture the start/finish line. The second unit was connected to a fixed onboard camera in one of the racing cars, transmitting live content directly from the cockpit to Facebook. As a plug and play device, LiveU Solo allowed the video producers to stream live at the push of a button: "The handling is super easy and can also be done by unpracticed users," explains Michael R. Podlogar explains who turned his dream of his own rally team into reality by founding WERK1 Racing.
The live sessions from the race were published on the @OP.Dakar Facebook page where the online audience saw women-power at its best: The first (so far) only female "Rally Dakar" winner, Jutta Kleinschmidt, and the motorsports enthusiastic German TV presenter, Lina van de Mars, hit the race courts for WERK1 Racing. The two ladies delivered an impressive performance both behind the steering reel and in front of the live stream cameras. As restless anchorwomen, they reported live from both the circuit and the paddock. Their exclusive insights attracted wide interest among the Facebook community, the GORM live streams reaching more than 20,000 total views.
While the off-road vehicles sped over the racing tracks, LiveU Solo hurtled packets of video data across the internet; the integrated live streaming encoder transformed this data immediately into a smooth, high-quality live streaming. For the internet uplink, WERK1 Racing relied on LiveU Solo's cellular connection, providing a direct link to the Facebook servers. The streaming result left team boss Michael R. Podlogar more than happy: "We are thrilled about the broadcast quality," he concluded after the one-day racing marathon. He is already decided that "We will use LiveU Solo for future events."